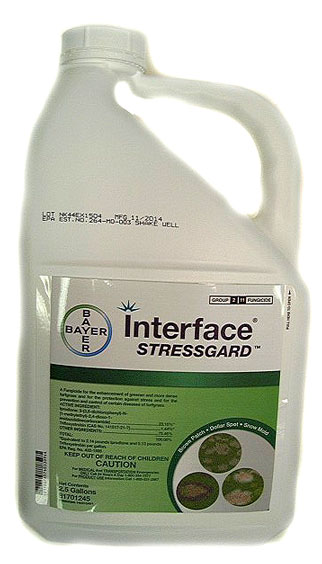 Interface® is a relatively new Pre-Mix fungicide from Bayer Environmental Science and contains the two active ingredients iprodione (found in Chipco 26GT and others) and trifloxystrobin (Compass). While some of us have worked with the individual products for many years, it is only recently that I (and probably many others) have worked with the Pre-Mix version. Below you will find data from a recent fungicide trial with Interface®, a statement from Bayer on the strengths of the product and my concluding thoughts.
2010 Dollar Spot Trial and Turfgrass Quality:
Dollar spot.
Active dollar spot symptoms began to appear shortly after treatments were initiated on 24 May. Disease activity began to increase rapidly in June and when plots were rated on 14 Jun, and average of 34 to 39 infection centers (IC) were present within the untreated control plots (data not shown). Dollar spot was suppressed on most rating dates during periods in which treatments were applied and generally were very low (0-2 IC) within 7 days following application and low to moderate (1-14 IC or 0.1-2.9%) 2 to 3 weeks after the last application. On 13 Aug (17 days after the last application), dollar spot was completely suppressed in plots treated with Interface at rates ≥ 4.0 fl oz. Moderate suppression (2.0% disease) was observed within plots treated with Interface (3.0 fl oz) and Iprodione Pro. Although disease pressure started to increase approximately 3 weeks after the last application, significant reductions in dollar spot were still observed within plots treated with the higher rates of Interface into early September.
Turfgrass color
. Turfgrass color (which excluded the impact of disease within each plot) was rated on 27 Jul (2 weeks after the third application). All plots treated with Interface and Tartan had improved color when compared to the untreated plots and those treated with Iprodione Pro.
Overall, dollar spot suppression within this trial was good to excellent with products containing Iprodione. A slight rate effect with Interface treatments was observed. Moderate suppression of dollar spot was achieved within plots treated with Tartan. This is likely due to a known reduced sensitivity to fungicides within the DMI chemistry at this site. All treatments containing the green pigment StressGard improved turfgrass color and quality throughout the study.
Interface
®
is the non-DMI of choice
Consistent Disease Control

Turf Safety

Turf Quality

Disease Control

Best Leaf Spot Product

Great Dollar Spot and Brown Patch Performance

Great rotation product for Anthracnose

Programs (including Basal)

Top Snow Mold control for < 150 days snow cover with earlier green up in the spring
Interface
®
is a strong fungicide for certain foliar diseases found during the summer months, specifically brown patch and dollar spot. Although we have not conducted studies specifically for brown patch, all strobilurins (including Compass) generally provide excellent suppression of this disease. Coupled with iprodione,
Interface
®
is able to target both foliar diseases. This may be particularly useful in situations where insensitivity to the DMI fungicides for dollar spot is present as is the case at our research facility at Penn State. Although thought of as a "great rotation product for anthracnose programs", the use of Interface for the suppression of this disease may be limited. In our previous trials, suppression of anthracnose with iprodione has been moderate to poor and resistance issues with the strobilurin fungicides against anthracnose may all but negate its usefulness for this disease. Where resistance is NOT a problem, the strobilurins work very well. Unfortunately, where these products have been used extensively for anthracnose suppression they are likely not useful anymore.
An added strength of
Interface
®
is the addition of the StressGard technology. While I still don't know exactly how and why this provides improved plant health, the benefits of this additive are consistently observed in the improved turfgrass quality and color following application.
Overall, I think that the combination product will be useful for controlling common turfgrass diseases during the summer months and will be effective in a rotational program. In situations where its use is effective against anthracnose and/or other diseases where known resistance may occur, it will be important to rotate fungicides from other chemical classes. Although this is not specifically related just to Interface, the Pre-Mix packaging of fungicides is becoming more common. A primary concern of mine with this is the potential overuse of certain fungicides where resistance is known to develop relatively rapidly (namely the strobilurins). Golf course superintendents should pay close attention to the active ingredients within the various Pre-Mix products and make efforts to truly rotate chemistry when developing their seasonal fungicide programs.
Download the pdf Fungicide Label.