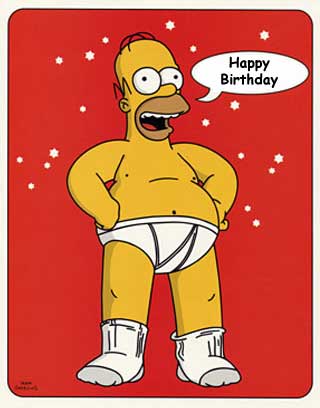 ...Dr. Wong and also Turf Diseases.
In all the activity in the past few weeks, we forgot to mention that we passed the one year anniversary of our blogs initiation. The first blog post (aside from setting up profiles) was presented by Megan Kennelly on May 1, 2009. The South Central post was entitled "
patch-a-rama in Kansas
" and served as a great kickoff to the start of this blog.
As you know, our blog was setup to provide timely disease updates to golf course superintendents in the United States. After the end of the calendar year we also started posting "
international updates
" in an effort to serve the growing number of international visitors to the site. While the blog serves as the primary means of information, we also transfer all of the information to our
twitter
and more recently
Facebook
accounts.
Homer Simpsom image from www.xcitefun.net.
In celebration of our birthday (although late), I thought that I would post some favorite posts from our bloggers...
Northeast posts by John Kaminski of Penn State
"If I made magazines..."
Southeast posts by Lane Tredway of NC State
"Civitas shows promise for control of dollar spot and brown patch"
Midwest posts by Jim Kerns of University of Wisconsin
"Microdochium Diagnosis: It's Magically Delicious!"
West Coast posts by Frank Wong of UC Riverside
"Happy April 1st!: Mild in the West, New Fungicide, & NCAA Action"
South Central posts by Megan Kennelly of Kansas State
"Test your soil, or it's an overhead gutwrench backbreaker for you!"
OK and finally as I mentioned in the intro...we should all send out a very HAPPY BIRTHDAY to our favorite West Coast blogger Frank Wong. This birthday wish is actually on time as Frank got one year older today!